Webmaster Profile
Introduction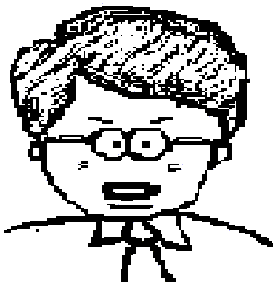 I am a Japanese teacher of English.
I work at public high school in Saitama Prefecture.


First Encounter with Zen-Ei-Ren
It was when I was in my junior year at college that the professor of the teacher-training course took us to the Study Meeting. It has been more than 30 years since then.
Memories of Zen-Ei-Ren
The first Study Meeting I went to was held at Aoyama Gakuin University in Tokyo. I observed the discussion about the ways to let the students speak in English. I watched some pieces of videos taken during the class. The attitudes of the teachers gave me a strong impression. They were very much eager to learn how to improve thier teaching skills.
Needs to Improve My Teaching


After graduating college, I was lucky enough to be given an opportunity to become a teacher. I started my teaching career at a certain high school in Saitama Prefeccture. Sorry to say, for the students of the school I worked at, English, Math, and Science were, so-called, "Three Unnecessary Subjects". I did't think that the academic level of the students was low, but for them, English was the subject to be hated. I had to realize the fact that the things I had learned at college were completely insufficient in teaching English to them.
However, I had to be in charge of teaching English to them. I had to abandon everything I learned at college, the method which I was taught. I started to search something new, something that would enable me to catch the interests of the students.
In Saitama, newly employed teachers must participate in "New Teachers Seminar" conducted by Prefectural Board of Education. There, I was given many suggestions by the teachers of other high schools. Even though the students didn't like to study English, I wanted to let them feel "fun" to use English. During the first five years of my teaching career, I attended as many study meetings as possible.
It was my fifth year that the AET, Assistant English Teachers, System started. My school didn't have an AET. Some high schools started Team-Teaching, which JTE, Japanese Teacher of English, and an AET teach English together. I was afraid of not being able to catch up with some "change" in the English Education. "Communication-oriented" or "Communication-centered" teaching method began to be more emphasized than before. I attended some seminars to learn. Then I "returned" to Zen-Ei-Ren. It was the Tokyo Study Meeting in 1987. I have participated in Study Meetings since then. For me, it is a place where own idleness is made to be learned, and the place where I can learn many things to improve my teaching.
What I want to do
After having started to use the Internet, the first term I searched was "Zen-Ei-Ren". Though I looked for it, expecting information on the Study Meetings, I could not find Official Website then.

I do understand that only an individual cannot do much, but I started this WebSite in hope of exchanging information of Zen-Ei-Ren for its participants, sending information to those who are in trouble in teaching English to the students, to those who don't know Zen-Ei-Ren.

---
I look forward to your comments on this site.

---
Zen-Ei-Ren Participant's Page
Since May 1, 2000

English Pages
Since October 20, 2000
Last Modified March 10, 2001
Restored & Refined March 27, 2006
Updated December 2, 2018